Ways to Use Heavy Equipment Tracking
Receive Real-Time Data About Equipment Location and Use
GPS tracking systems for construction equipment provide real-time data about vehicle location. These systems allow construction companies to track equipment at all times, even in remote locations, allowing team leaders to make informed decisions about how to best accomplish tasks at the job site.
The real-time data offered through construction equipment tracking isn't limited to vehicle location. Managers will also receive data about whether or not an engine is running and how far the vehicle has traveled. This helps you track your goals and keep your team accountable.
Utilize Equipment More Effectively
Construction equipment represents a sizeable investment. All too often, companies invest in equipment they don't need simply because they are not using it as efficiently as possible. Track Your Truck wants to eliminate this inefficiency with the help of equipment tracking.
Accurate, real-time data about equipment location and use is critical to improving the overall production of your valuable equipment. When you are not utilizing equipment to its fullest potential, it is costing you money with minimal benefit. Using a fleet tracking system will help ensure that you are getting the most out of your equipment. For example, Track Your Truck's tracking systems provide instant data about equipment that is idle at a job site, so you can help your team use it more effectively at that site or you can make use of that equipment at another site.
Furthermore, by tracking your construction equipment, you can ensure that the equipment is properly dispersed. Track Your Truck's tracking system will keep a log of every piece of equipment's location so you can easily determine whether a site is using too much, too little or the precise amount of equipment.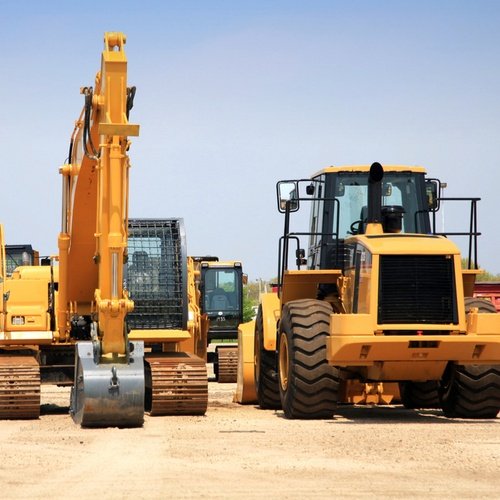 Improve Security and Prevent Theft or Unauthorized Use
Nothing is quite as frustrating, or costly, as the theft of a piece of equipment. Unauthorized use of company equipment may be slightly less costly, but it is still frustrating and causes unnecessary wear and tear. With construction equipment tracking, you can enhance accountability and stop unauthorized use — or even theft. Thanks to accurate, real-time tracking data, you can see when the equipment is misplaced or missing from your property or job sites.
Unauthorized use is just part of the problem. When equipment is left at a job site overnight, it is vulnerable to theft from outsiders. Access to real-time data about equipment locations alerts you to missing or stolen equipment, and allows you to take prompt action to recover it quickly. Give law enforcement professionals the last known GPS coordinates for any stolen equipment to increase the chances of a successful recovery.
Set perimeter alarms so you know when equipment leaves a construction site, easily track any misplaced or stolen equipment, and monitor hours of use with the right tracking system from Track Your Truck. Provide customers with real-time delivery estimates for shipments and deliveries. Just as with mobile vehicles, your tracking system will show you real-time data about how a piece of equipment is being used, so every project is proceeding as effectively and efficiently as possible.
Ensure Optimal Use of Assets
Improper use of heavy machinery adds wear and tear to these costly assets. Equipment tracking can help ensure assets are used optimally. With real-time GPS equipment tracking from Track Your Truck, companies that operate multiple job sites can quickly locate equipment and send it where it's needed. Fleet management can monitor engine hours to reduce idle time. Geofencing can help to prevent unauthorized use of company equipment.
Schedule Routine Maintenance to Extend Equipment Lifespans
Track Your Truck's tracking systems not only log location and use of equipment, but also maintenance. You can set up the system to send maintenance alerts when a piece of equipment is nearing time for service. This ensures that your team never forgets critical maintenance.
By tracking and monitoring maintenance more effectively, you can see to it that all preventive maintenance is handled on time. This will extend the life of your equipment and its overall efficiency. And focusing on maintenance with the help of your tracking system, you also will get more use out of your equipment.
Accurate data about mileage, engine hours and past service will also help you ensure maintenance is performed exactly when it is needed and based on actual use — particularly helpful for equipment that isn't used daily. Keep more accurate logs and documentation to satisfy any regulations surrounding your work and industry.
Routine maintenance is one of the most important factors in preserving the lifespan of industrial equipment. Track Your Truck's industrial equipment tracking technology helps ensure preventative equipment maintenance isn't an afterthought. Our heavy equipment tracking systems send you alerts when key maintenance tasks are due. You can schedule maintenance tasks when the equipment isn't needed to minimize downtime and extend your equipment's lifespan.
Reduce Wear and Tear on Heavy Machinery
Operator behavior is a key factor that contributes to wear and tear on heavy equipment. Track Your Truck's tracking systems not only monitor vehicle performance, but they also monitor operator behaviors. Put a stop to dangerous and wasteful behavior such as unwanted idling time with real-time data that logs how vehicles are being used. By keeping operators accountable for use of your company's equipment, you will be able to reduce wear and tear and lower operating costs.