Benefits of GPS Vehicle Tracking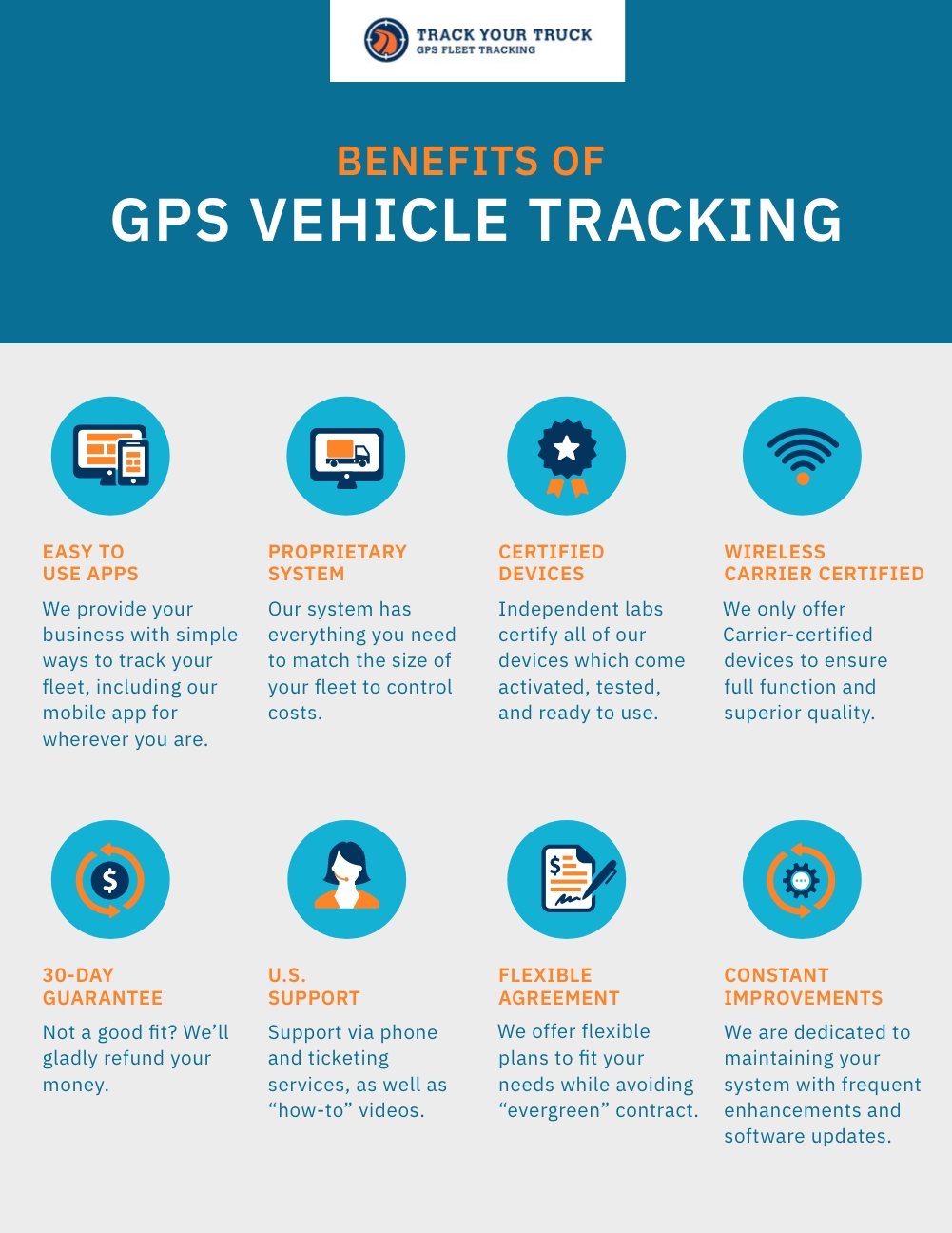 Track Your Truck's GPS fleet management and vehicle tracking systems include convenient, sophisticated features to give you peace of mind by improving your fleet's safety, accuracy and compliance. Working with our company offers various benefits, like certified devices, flexible agreements and a 30-day satisfaction guarantee, and the technology itself can improve your operations in several major ways.
The powerful features and components of our fleet management software allow you to:
1. See Your Vehicles' Exact Routes on a Map Screen
Get precise locations, routes and times for all your vehicles updated live on detailed maps. With NetTrack GPS mapping software, you can identify the location of your trucks, adjust routes based on real-time traffic conditions and provide clients with more accurate estimated arrival times.
Track Your Truck's GPS vehicle tracking software uses Google Enterprise Edition Maps to provide the most reliable mapping capabilities. The map generates a breadcrumb trail, allowing you to see each vehicle's exact route in real-time. See if there were any unauthorized stops and verify any detours made along the way.
2. Monitor Exceptions With Real-Time Alerts
Receive notifications and reports customized to include the exact information you need. NetTrack's real-time alerts feature can provide arrival and departure updates, detect after-hours usage, monitor idling and track when speed is exceeded by a set amount. Know the moment an unsafe or unauthorized action occurs so you stop it quickly.
3. Track Your Drivers in Addition to Your Vehicles
Combined with driver ID technology, Track Your Truck's fleet management systems offer additional insight into the driver of each vehicle. Know who is driving your trucks at all times and keep your vehicle data separate from your driver data. Verify the official start and end times of each employee to supplement timesheets.

4. Eliminate Bad Driving Behaviors
GPS fleet management software can increase driver safety and performance by monitoring speeding, jackrabbit starts, hard cornering, harsh braking, time spent idling and more. You can also use data to set criteria for rewarding the good habits of your drivers. When excessive speeding is addressed quickly, you effectively reduce fuel waste, safety risks and insurance rates.
5. Minimize Fuel Costs and Travel Time
Our real-time GPS tracking allows you to manage and dispatch work vehicles quickly and effectively. Find and assign the closest driver to a drop-off location or service call, optimize routes to eliminate the wasted time between stops and significantly reduce your fuel costs by controlling speeding, idling aggressive driving, wasted mileage and after-hours usage.
6. Receive Only the Most Vital Tracking Information
Updates from high interval GPS reports can make critical information more difficult to find, especially for long-distance transport. Smart Tracking offers a better way to track, only sending a message when particular events occur without the unnecessary data. In addition to getting reports at regular, predetermined intervals, you will receive notifications anytime there is a turn, ignition or accelerometer event.
7. View Full Reports of All Activity for Each Vehicle
Track Your Truck's GPS fleet tracking system offers detailed reporting to help you make informed decisions based on various vehicle patterns and events. Current and historical fleet performance analysis lets you create truck activity reports for total operating hours, total miles, total stop time and total standstill time.
8. Validate Completed Work and Improve Customer Service
Fleet managers can use real-time vehicle locations to optimize driver routes and provide customers with increasingly accurate arrival times. Offer the most convenient customer experience by informing your clients when they can expect a delivery or other service.
Sometimes, customers may question how much time you've billed them for and might even claim your employees never showed up at all. GPS trackers can keep a record of your driver's behaviors — electronic proof they worked the hours in their invoices. Delivering more accurate time estimates and demonstrating evidence of completed work can help build trust with your customers.